IITs (Indian Institute of Expertise) throughout the nation are identified to provide you with a number of ground-breaking options again and again. Although most of those options are first-of-their-kinds, some are an improved model of the prevalent applied sciences. Deshla, a brand new electrical three-wheeler, is the latter one.
Pursuing the 'Make in India' problem, a workforce of scholars and professors on the IIT-Kharagpur facility lately constructed a prototype of an electric three-wheeler from the bottom up. A totally indigenous next-gen electrical auto, Deshla is an try to enhance the autos and totos presently plying on the Indian roads. 
So how is it higher?
The workforce targeted on a number of facets to make Deshla a greater possibility. First, it opted for a lithium-ion battery as an alternative of lead-acid ones often present in totos. Although the batteries for Deshla price extra initially, they lower down on the necessity for a substitute each 9 to 10 months, proving less expensive in the long term. 
The workforce additionally claims that these present a uniform energy supply, primarily making them extra environment friendly than the lead-acid batteries.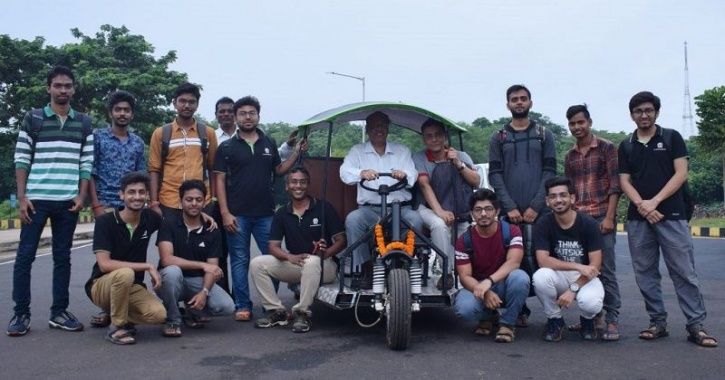 Group EVG with Deshla (Picture: KGP Chronicle)
A greater battery output can in flip energy a much bigger electrical motor. Therefore, the Deshla has been fitted with a three.5 kW motor for extra torque and pace compared with the common totos. The IIT workforce claims a prime pace of 50 kmph for the electrical car. 
Different options that the workforce targeted on embrace particular person suspensions for its wheels, similar to automobiles, for a extra steady journey on the roads. Apparently, the workforce additionally changed the usual handlebars of autos with a steering wheel for the Deshla. They are saying it might keep away from the unintentional turning of the handlebar on dangerous roads. For braking, they opted for hydraulic ones for higher braking. 
One other benefit value noting right here is that the Deshla is totally indigenous, that means aside from the car components, the embedded electronics subsystems like BMS (battery administration system), Battery Charger, Motor Controller, GPS and 3G Mobile connectivity modules have additionally been created by the IIT Kharagpur workforce. This implies a greater, simpler substitute of broken components or methods and naturally, a neater servicing than the common totos, which often have these components made in China.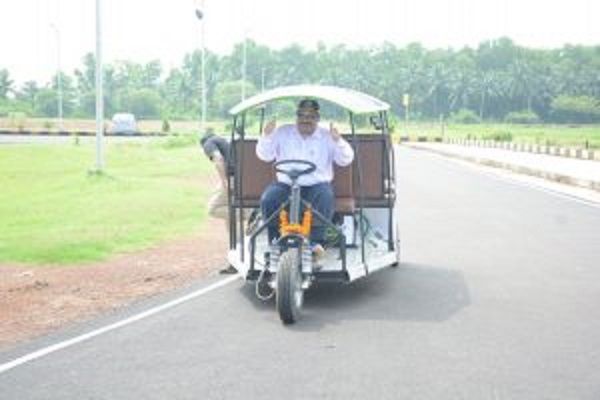 Prof. Partha Pratim Chakrabarti, former Director, IIT KGP on Deshla (Picture: KGP Chronicles)
A typical IIT brainchild
The IIT ecosystem is famend for propelling a convincing concept on all fronts. The event of Deshla has an identical story.
A latest report by IIT Kharagpur mentions that the Deshla was designed and constructed by Electrical Automobile Group (EVG) of the Institute. A brain-child of Life Fellow (Alumni) of the Institute, Bijoy Chatterjee, the challenge was began round three years again. Since then, it has seen about 50 college students related from completely different backgrounds with it so far. 
One other IIT Alumni, Purnendu Chatterjee, funded the challenge initially. As of now, funds value Rs 46 lakhs have been offered for the challenge.
Now prototype of Deshla has hit the roads, the workforce is optimistic about creating an financial mannequin for promoting it within the nation. For a similar, it's now in search of angel buyers. As soon as applicable funding is availed, we would quickly see the Deshla on Indian roads quickly. Till then, keep tuned to this area for any developments on the car.
window.twttr = (function(d, s, id) ; if (d.getElementById(id)) return t; js = d.createElement(s); js.id = id; js.src = "https://platform.twitter.com/widgets.js"; fjs.parentNode.insertBefore(js, fjs);
t._e = []; t.ready = function(f) t._e.push(f); ;
return t; (document, "script", "twitter-wjs"));
(function(d, s, id) var js, fjs = d.getElementsByTagName(s)[0]; if (d.getElementById(id)) return; js = d.createElement(s); js.id = id; js.src = "https://connect.facebook.net/en_US/sdk.js"; fjs.parentNode.insertBefore(js, fjs); (document, 'script', 'facebook-jssdk'));
window.fbAsyncInit = function() FB.init(); ; var scr = document.createElement("script"); //scr.src = "https://notifications.indiatimes.com/js/main.js" + "?ts=" + new Date().getTime(); scr.src = "https://staticresources.indiatimes.in/resources/themes/indiatimes_desktop_default/js/webnotification/main.min.js"+ "?ts=" + new Date().getTime(); scr.async = true; document.getElementsByTagName("head")[0].appendChild(scr);